ABOUT US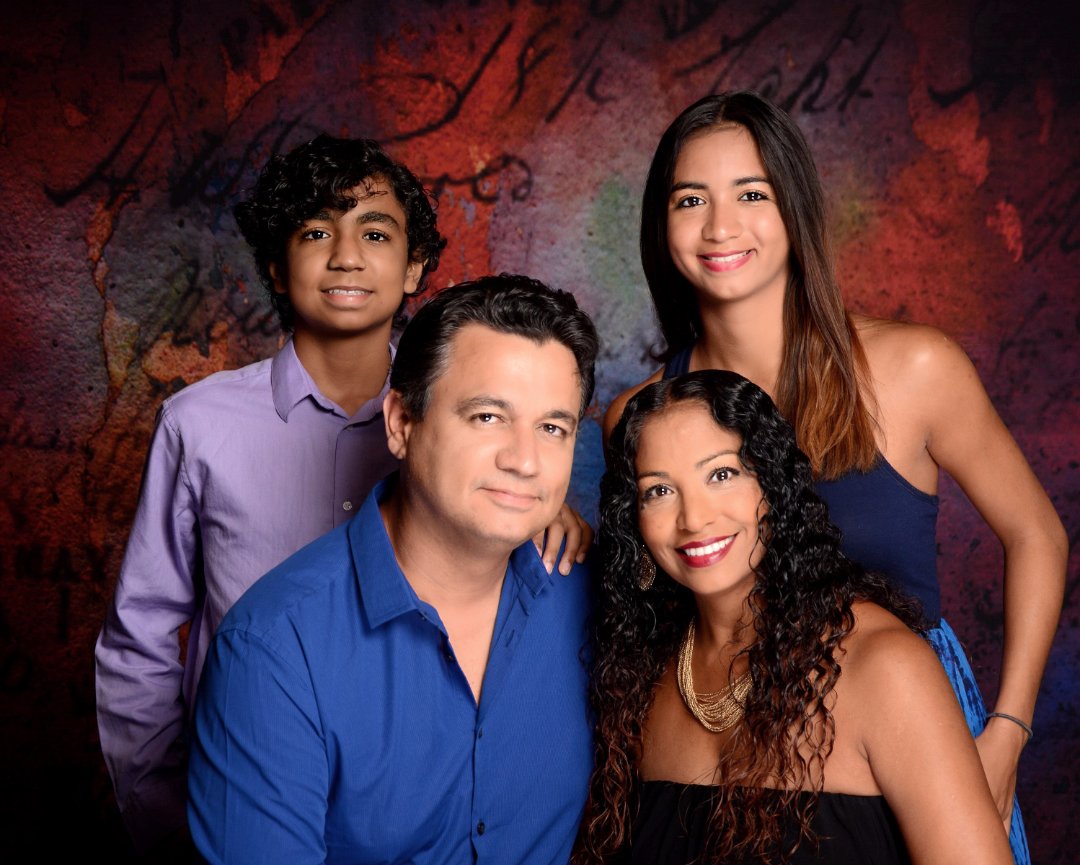 I am a storyteller and I love weddings, Its what I do. The camera is the tool of choice I have chosen to make it a part of my life, to capture the most spontaneous and joyous moments of your lives. From the moment you visit my studio, I will listen to your needs to plan and make sure your day is also my day to timestamp your memories.
My customers become like family, Follow me on Instagram @miamiphotoinc to see my latest additions to my extended family.

My Photography Start:

Stepping into my middle-school darkroom for the first time and seeing a picture come to life before my eyes in my photography course made me fall in love with creating something out of nothing. That very moment was all it took for me to realize that I'd want to work in the photography field for the rest of my life.

And so I did.

When I was 18 years old, already attaining five years of photography experience, I discovered that I wanted to specialize in wedding photography when my older sister asked me to photograph her special day. The sudden thrill, captivating moments and rapid adrenaline that I experienced from trying to get each special detail was something I still feel today when photographing weddings of others. The affectionate glances that emanate from the bride as she takes each step down the aisle, the raw emotion shown in the first look of the groom and the joy expressed in the smiles of those awaiting to see the unity in a marriage of two loving people is what makes me love what I do each day.

I look forward to having the opportunity of photographing the start of your own family.

"Love what you do and do what you love." It is the best way I choose to perceive life.

Carlos


PRICING

Our Best Photography Packages
We have a la carte pricing for photo only starting at $2799.00

Photo and Video packages start at $3499.00

Ask about our complete $4699.00 engagement photo, wedding photo, video, photo booth and coffee table album special.

convenient payment plans are available.

Special prices for weekday weddings

It is best to schedule an appointment at our studio to see more
Miami Photo
210 Almeria Avenue
Coral Gables, FL 33134

carlos@miamiphoto.net

call or text 786-251-0830
or go to our contact page
as we must first check if I am available for your date


CALL NOW: 786-251-0830


REVIEWS

FAQ's


Q. Do you do photography and videography? or just one.

A. Carlos Osorio is a wedding photographer specialist and I have partnered with Carlos Morales a wedding videographer specialist.

Providing both photo and video will ensure that your day goes smooth and timelines will be on point.

Q. Who will be my Photographer?
A. Carlos Osorio, unless he is already booked and you contract his second photographer in which you will know when you create the contract.

Q. What happens if your camera fails?
A. I bring up to three cameras the day of the wedding. You will actually see me with two as you
walk down the aisle.

Q. How long until I get my photos?
A. Engagements take one week to edit, Weddings take two weeks to edit.

Q. What type of editing do you do?

A. We first Cull ( select the images approximately 700 or more depending on the length of the wedding and how many photographers}

then we edit for exposure, color, contrast. we provide some filters and also give you the natural one and make some artistic images for you.

we also photoshop 10 images from your wedding or up to 80 if you choose an album for any type of photoshopping you may want.

Q. How do I get my photos?
A. We first text you a link and then email you one. You can download all the photos there.
We also set up a gallery on our site password protect it so you can download all the photos from there.

Q. Do you provide albums?

A. Yes, we specialize in custom albums. Where you select the images, we design in one of our styles you will choose.

Clean look, Matted or Artistic. All our images in the album are photoshopped to your desire.wee don't print album until you proof it and approve it.

Q. How long until my album is ready?
A. You will pick your photos for the album first, then it takes 2-4 weeks for design depending on the time of year.
Once approved, ten days after you get your album.

Q. Is an engagement shoot included? (Photography)

A. Yes, This is your practice session for your day, we will show you poses and ways to look less stiff, thin and romantic.

a Two-hour weekday session is included with our 8 hours or more packages.

Q. Are you insured?
A. Yes, we are insured and we can provide certificates of insurance to the venues that need them.

Q How do you schedule a wedding day?
A. I first schedule a time for getting ready to be ready at. This is essential as the ceremony time cannot fluctuate and in order to provide
key photographs we need to establish a timeline for you and your groom. The times we set up for key photographs is Before Ceremony, Afer Ceremony and mini times during reception.

Q. How many weddings have you done.
A. I've been photographing weddings for 25 years, I currently shoot approximately 35-40 weddings per year so over 700 so far.

Q. What do you love most about photographing weddings?
A. I am in love with LOVE! and no two weddings or couples are the same. I get paid to see two people in love have the time of their lives. And I get to create wonderful works of art and be a part of their new chapter.


Video Questions

Q. Who will be my Videographer?
A. Carlos Morales will be the main videographer, the second videographer is Danny Morales.

Q. How long until I get my Video?
A. The video takes 30-45 days from when you choose a style of video or songs. If you choose prior you can get it as early as two weeks depending on the time of year.

Q. Wha type of video do I get?
A. You get bot a Trailer (highlight reel) for you to post and a full feature film. containing complete ceremony, Toasts, Cutting of cake and full edits of getting ready and Reception.

Q. Do you do drone service?

A. Yes, we provide drone service for an additional charge or included in our higher-end packages.

Q. Do you include raw footage?

A. No, we include a full documentary edit in which it has most of our footage. Raw footage sometimes cannot be seen by non-professional video players and we sometimes get bad footage like camera stayed on, people in front of the camera in some still cameras. You wouldn't want to go through endless hours of wasted material so we cull that for you too.